Welcome to the online home of Balbriggan Table Tennis Club, 2018 Leinster TT League Division 1 Champions. Founded in 1938 and re-formed in 2016, Balbriggan TT Club has players of all levels, from absolute beginner to league player to Irish Veterans Six Nations representatives. With 5 tables and over 35 active players, plus a newly established Junior Table Tennis club, all are welcome to come and play. We are located in St. George's National School, the Naul Road, Balbriggan.
Match Videos from Club Championships 2019
---
Club Opening Hours
Junior Club is open to all Juniors (U-16). Drop in with parent/guardian welcome.

Open Play by Pre-booking only (contact @ John 087-2344004 to book a 45 min session for open play)
Tuesdays

17.30-18.45 Junior Club
19.00-22:00 Open Play
Junior Club is open to all Juniors (U-16). Drop in with parent/guardian welcome.

Open Play by Pre-booking only (contact Kevin 086-8075865 or John 087-2344004 to book a 45 min session for open play)
Thursdays


17.30- 18.45 Junior Club
19.00 - 22.00 Open Play
Open Play by Pre-booking only (contact Kevin 086-8075865 or John 087-2344004 to book a 45 min session for open play)
Saturdays
11.00 - 14.00 Open Play
Membership
First night of play is free! After that, it is €3 on Tuesdays and Thursdays, €5 on Saturdays for members with an annual membership fee of €30. All are encouraged to join.
***ATTENTION*** Our Junior Section is currently closed to new members due to current space limitations; we cannot safely accomodate any new players. Anyone interested please check in with us in November when we may have the full use of our hall. Apologies for the inconvenience.***
The Club is open to players of all ages. Players under the age of 16 are encouraged to join our Junior Section, with coaching and play on Tuesdays and Thursdays from 5:30 pm to 6:45 pm. The fee for each junior player is 20 euro per year for membership and 2 euro each time to pay for the hall. Parents must be on school grounds/in hall while play is in session, and brothers and sisters who are not members/or aren't playing, must not be on the courts near any play for safety reasons. Thanks!  For any questions, contact Kevin by text/Whattsapp at 086-8075865 or  kevgeomcc@gmail.com  
Social Media
Many thanks to our sponsors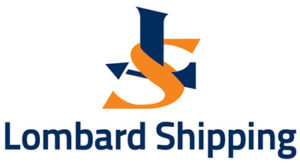 Club History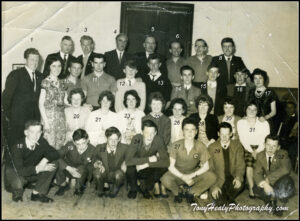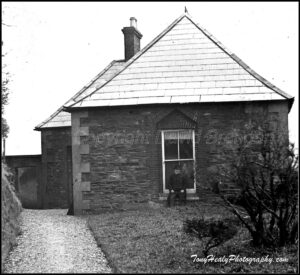 Balbriggan Table Tennis Club was originally formed in 1938. It was based in the old YMCA hall behind St George's Church. From the early 1960s to the 1980s it was one of the premier clubs in the country, being home to Irish table tennis legend Tommy Caffrey, who continues to play TT at the highest level in the club today, representing Ireland in the Veterans Six Nations competition. Featuring national standard players such as Tommy's older brother Larry, Freddie Harper, as well as current Six Nations Irish representatives Oliver Adamson and Brian Finn, Balbriggan TT Club won the Leinster League on many occasions. Kathleen Copeland (nee Murray), who also continues to play at the club, was the ladies team star in the 1970s and 80s, aided by Anne Reilly, Marie Fynes and Phyllis Stapleton. Kathleen represented Leinster on many occasions and was very unlucky not to get a full international recognition.
As the old YMCA club building deteriorated and became unfit for purpose, table tennis faded away in the town. While Tommy, Brian, Oliver and others continued to play tournaments and league for other clubs, Balbriggan TT Club itself was dormant for many years. Then, in Sept 2016 the club was re-formed, amalgamating with Hyde Park TT Club and finding a home in the beautiful sports hall in St George's School on the Naul Road.
In 2017/18, for the first time in over twenty years, Balbriggan TT Club entered two teams in the Leinster Table Tennis League. The first team, consisting of Tommy Caffrey, Kevin McCarthy, Dave Cunningham, Mical Kowal and Branislav Jakotevic, won the Division 1 League title, with Tommy winning the individual title, dropping only one game in 24. The second team, consisting of John Keogh, Matthew Broadhead, Dennis Duffey and Pat Walsh finished third in Division 4, with John Keogh taking the individual title.
Despite the disruption of Covid 19, Balbriggan TT Club opened whenever it was allowed to during 2020 and 2021, and even grew its adult membership at this time. In November 2021, BTTC started up its Junior Club, after it had been delayed several times due to Covid, with 24 eager players training twice a week with Coach Branko Jacetevic.

Club News
(March 2022)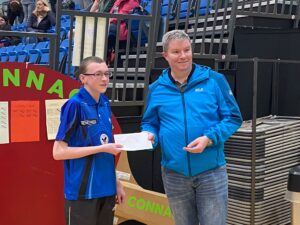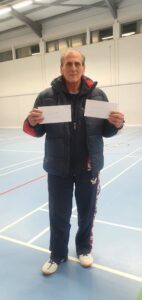 Some great news to report for BTTC, this month. Firstly, Aaron Mellows won the Para Event at the Connacht Open on February 22. Aaron has been training very hard–and very well!–for the past number of months and his work and positive attitude to the game have really paid off. Well done Aaron!
Secondly, Coach Branko won the over 50's AND over 60's categories at the Munster Open Veterans Tournament on March 12! Keep in mind how hard it is to win one age category, let alone two… Well done, Branko!
Also, our Junior Club is going from strength to strength, with over 24 kids enjoying learning the game. Some of them are getting very good, very quickly! Any club members (or parents) who can help out on a Tuesday or Thursday, any time from 1700 setting up tables or coaching from 1730, will be guaranteed first choice of table for the 7pm booking and are welcome to book for 8pm as well. Coach Branko needs our help! 
Finally, the club AGM will be held on Tuesday, April 12th at 7pm.  (Time to be confirmed closer to date) Can all club members, new and old, please try to attend as we have not had an in-person AGM in 2 yrs and there are many things that need to be voted on, decided etc. Hope to see you all there!
(February 2022)
The BTTC Junior Club will start up again on Tuesday, February 1, 2022 at 1730! All kids are welcome! The times and fees are the same as before (and are listed above for new members). If any parents are available to help set up table a few minutes before we start, it would be a great help to Coach Branco. Also, for everyone's safety, can we please ensure that little brothers and sisters of the players (and any other non-member children) do not go out onto the courts. It can be dangerous with all those swinging bats and flying balls and we don't want an accident. Thanks! And welcome back!
(November 2021)
Some big news in BTTC this month, folks! BTTC is beginning is Junior TT Club on November 9, 2021. The junior training sessions with Coach Branco will be on Tuesdays and Thursdays from 17.30 to 18.45. Please let anyone you know with kids who might be interested! Also, any help setting up tables at 17.15 for the first few sessions until we can get parents trained in would be greatly appreciated. Also, any Garda vetted members might give Branco a hand for some of the sessions as well.
Also, the BTTC Summer (in November) League kicked off with a brilliant, fun night of matches on Tuesday, the 2nd of November. I'm not going to list any match results here as they're too many, but there were some great matches played in the spirit of friendship and friendly competition the other night. (And no, that was not me you heard shouting 'Cho-lei!' whenever I let rip a forehand winner!) Seriously, thanks to Dave, Frank and John for their organising of the league. We've all needed some competitive matches after so long without them. And who knows when we may next play Leinster League?
And finally, the ITTA is offering a free course for anyone interested in becoming a qualified TT referee/umpire. You can find the info here: https://tabletennisireland.ie/upcoming-umpire-course/
(June 2021)
Once again, with feeling… Great news! We will re-open the club for individual training–booked tables, same format as last year–on Tuesday, 8th of June. Contact Kevin or John via Whattsapp to book a table! Really looking forward to seeing everybody again for a knock!
(August/September 2020)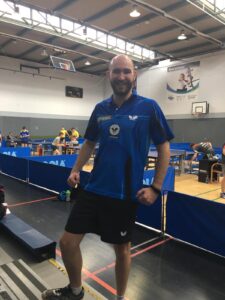 Not a great deal of news (obviously) from August and September thus far, but we did have several players representing BTTC at the Irish Table Tennis Nationals, played the last weekend of August and the first weekend of September.
Phil Jameson–who is, along with Coach Branco, a qualified TT coach, and now available for coaching (adult or junior) in the club–played in the Senior Nationals, putting up a strong fight in a brutal group, losing to Irish internation player and the eventual winner of the tournament, Ashley Robinson, and the number 1 ranked under 18 player in Ireland, James Skelton. Juniors members Aaron, Lucas, Max and Owen all had a great tournament in the Junior Nationals in various age groups. Well done to all!
The BTTC AGM will take place at the end of September. Keep your eye on the Whattsapp for date and time.
The table booking system and Covid safety procedures seem to be working well. Any suggestions are, of course, welcome. Also, the club wants to give a big shout out to all members who continue to help set up, sanitise and strip down the hall at every session. Fair play to everyone!
(July 2020)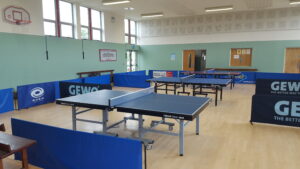 Great news! We will re-open Balbriggan Table Tennis Club for pre-booked open play and coaching to members from Tuesday, June 30! Any player who wants to play should contact Kevin (this week) via Whattsapp or text and he will book you in for a 45 minute sesssion. (See phone number above if you don't have it.)
There will be 3 sessions on Tuesday, Thursday and Saturday on 3 tables which are spaced according to safety guidelines issued by the ITTA. We envision that any member who wants to play will be able to play on any Tuesday, Thursday or Saturday or all 3 if they want. (It may not be possible to give players the exact time or playing partner they want, however, but we will do our best to accomodate everyone). It may even be possible for players to play in more than 1 session per night if there are openings on tables and players can book sessions for more than one day in advance. If possible, try to find a partner and make a joint booking, but if you can't, don't worry. We will find a playing partner for everyone who books.
According to Covid 19 restrictions and guidelines issueed by the Irish Governement and Table Tennis Ireland, all members will be required to fill out a health & safety, contact tracing sheet and only club members will be allowed to play for the time being. (New members are welcome to join and book a table and then play, of course; just no one-off drop ins.)
Only people who are playing on the tables, committee members, coaches & parents will be allowed in the hall, to a maximum of 12 people and must wear a mask when not playing. (We will have masks available to buy if you forget to bring one.) All members must sanitize hands before entering the hall, before playing and after playing. All tables and contact surfaces will be sanitized before and after each session. All doors and windows will remain open for the duration of play to enhance ventilation. All balls will be washed at the end of the evening's play and players are recommended not to touch their faces and to always maintain social distancing while playing. Players will stay on the same side of the table for the duration of play and the wiping of hands on the table and loud shouting (this means you, Kevin!) is forbidden.
A more detailed list of rules and health & safety measures implemented by the club will be issued to each player so that they may read and sign that they understand them when they first arrive to play. Please note that all players will be expected to help sanitize tables etc. at the end of their session of play.
These are strange times, and things will be different in the club for awhile, but hopefully everyone will get their fair share of fun and fitness from table tennis after such a long break from the game! If we all work together, we can ensure we have a safe and enjoyable TT experience that is similar to, if not exactly like, the pre-Covid days. Looking forward to seeing and knocking with you all!
(June 2020)
Hello! I hope everyone is healthy and well! It's been awhile since we've had any news to update but here we are, June 2020 and things are starting to happen. First, sad news. Nebosja and Marco Gabic are returning home to Serbia tomorrow. BTTC wants to thanks them both for being such staunch members of the 1st Team and of the club in general. Marco finished runner up in the Individuals in the Shield 2019 and was a member of the team that won the Shield. In honour of his very strong showing in the Shield and League, he was also selected to represent the Leinster League in the sadly coronavirus-cancelled match we at BTTC were to host vs the Belfast & District League. We will send you on your trophies whenever we get them, Marco! Both the Gabic men will be sorely missed in the club and we wish them all the best back home!
And now some (possibly) good news. Word on the street is that NPHET will recommend that most indoor sports will be able resume restricted play in the phase 3 of the opening up of lockdown, commencing the 29th of June. We haven't had any official word yet, of course, and will have to have a directive from TT Ireland before we re-open, but signs are good that we will be open again in a limited capacity sooner than later. The Committee will be meeting in the next week or so to discuss what measures will be required to open up our club the absolutely safest manner possible according to public health and sporting guidelines. Stay tuned for updates!
(March 2020)
Sadly, as we all know by now, the Leinster vs. Belfast & District League match has been postponed indefinitely. All league matches and tournaments etc. have been postponed by Table Tennis Ireland as well, again, indefinitely. These are strange and fraught times and we at Balbriggan Table Tennis Club want to do our part to keep people safe and healthy.  Therefore, BTTC will be closed from today until we receive notice from the various authorities that it is safe to resume playing.
And now for some good news! Firstly, a big shout out to BTTC's 2nd team (Kevin McC, Pat Kinsella, Dave Cunningham, John Keogh and Jack O'Meara) for WINNING DIVISION 2! The lads won the league with one match to spare, playing 9 straight matches and winning them all! The last match, to take the title, was a bruising contest vs. Balgriffin 2, played in Balgriffin, but the lads managed to dig it out, Pat and Kevin taking the doubles in 2 to win it in the end. (The match finished at 1245am!) Well done, 2nd team! As things stand now, Kevin is in with a strong shout to win the Individual Div 2 title as well, winning 24 out of his 27 matches. We'll see how things pan out when the corona virus dust settles.
The 1st team nearly pulled off a double for the club, but lost 6-3 to Terenure in their last match to finish second in Div. 1, Marco, Nebosja and Tommy each winning one a piece. It was a strong season for the lads but Terenure were, in the end, a bit stronger and deserved the win.
As for the 3rd and 4th teams, they have matches yet to play to decide their finishing place in their respective divisions.
The 4th team has a chance to win Division 5 in their one remaining match. Watch this space. The team, stylishly kitted out in their Balbriggan green TT shirts, played brilliantly at times, with Des Hamilton stepping into Gerry McGuire's shoes for much of the season while Gerry put in strong performances the few times he played. Frank and Damien won crucial matches, some nailbiting 5 setters that electrified spectators, performing like seasoned vets, playing ugly when necessary and like Youtube stars at other times. Well done fellas!
The 3rd team has also played very well in an extremely competitive Division 3. It's been a big step up for the lads, but as the season progressed, the boys got better and started staging upsets against teams that had thumped them earlier. Gerry Whickham, Gel, Vas and Matt "The Dragon" Broadhead have all shared the load well, showing great team spirit and drive. Awesome season, lads!
And a big thanks to all the players in the club for supporting the league teams. As I said last year, I know it's a pain to wait for tables on match nights and your co-operation and support for the teams–yet again the best in the league; visiting teams always comment on the support shown by our members!–is really appreciated. Hopefully, by next year, we will have some form of tall barriers in place so that we can put out more tables when the matches are on.
In tournament news, congrats to Lucas, Aaron and Branco for doing the club proud at the recent Connacht Open. Lucas finished runner up in the Plate competition and Aaron 3rd place in his groups. Branco finished 3
rd overall in the tournament. Very impressive, guys!
Annnnnd, the club shirts are in and have had our logo stitched onto the back. They look great and many thanks to Jack O'Meara and John Keogh for organising them. We will distribute/collect money for them when we resume play in the club.
Anyone with any corrections or further news re the club, league or tournaments, any photos etc., please let me know on Whatsapp.
Finally, BTTC wants to wish all its members and their families the very best during these difficult times. I think we will all soon realise how much fun and fitness table tennis brings to our lives when we are not able to play it! Hopefully, we can resume club training sooner than later. But in the meantime, be safe and healthy everyone! 
(February 2020)
BIG NEWS!!!!
BALBRIGGAN TABLE TENNIS CLUB TO HOST THIS YEAR'S LEINSTER LEAGUE VS BELFAST & DISTRICT LEAGUE MATCH!!!
This competition has been played every year since 1927–it was only suspended for 2 years during WWII–making it one of the longest continuously contested sporting events in Ireland in any sport. It is a real honour to be chosen to host this match and a testament to our lovely hall, tables and most importantly, our supportive and enthusiastic members and league players.  
LEINSTER VS. BELFAST & DISTRICT LEAGUE MATCH 2020
PLACE: BTTC, ST. GEORGE'S NATIONAL SCHOOL
DATE: SATURDAY, MARCH 14, 2020
TIME: 2PM
MORE BIG NEWS!!!
4 BTTC PLAYERS HAVE BEEN PICKED TO PLAY FOR THE LEINSTER LEAGUE SELECTION IN THE MATCH!!!! On Leinster Team 1, Marco and Nebosja Gabric with represent the League as a father/son duo, along with one other player from another Leinster club. Well done, lads! On Leinster Team 2, Kevin McCarthy will represent the League with 2 other players from other Leinster clubs. And Pat Kinsella will represent BTTC on Leinster Team 3, along with 2 other Leinster players. The matches will be played on 3 tables, with teams of 3, and the scores from each team are added up to determine the overall winner. Last year, Belfast & District gave us in Leinster a serious hammering up there at the Stormont Civil Services Sports Club. This year Leinster is out for revenge! Please come out and support the players and the League on the day, and bring anyone who might be interested along. There will be sandwiches, tea and coffee etc., to accompany a great day of high level TT.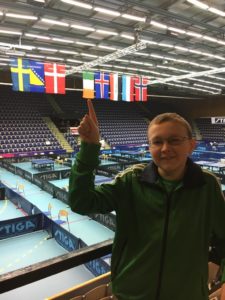 In other news, several BTTC players have done brilliantly in tournaments, both here in Ireland and abroad.
Young Aaron Mellows reached the quarter finals in singles and doubles at the Malmo Para Open 2020 in Sweden, on February 7th and 8th, 2020. He and Martin Collins, from Beechill TT Club in Cork, lost to the eventual gold medallists and are now the 5th ranked doubles TT players in their class in…Europe! He also reached the 1/4 finals in his singles class. Amazing results which are the result…(see what I did there!?) of very hard work and dedicated training. And hard training is always made easier when it's done like Aaron does it…with a smile on his face! Well done, Aaron!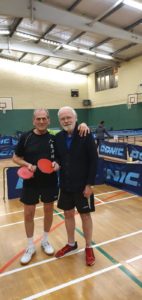 And at the…ahem!…opposite end of the journey of life that is Table Tennis, Tommy Caffrey won the +60's and +70s at the Munster Open on February 15, 2020! And incredibly, the player he beat in the +60s final to win it was none other that BTTC's own 'Marlon' Branco Jakotevic, who finished runner up in the +60s, just back from his holidays! (They must have done him some good!) Great job, Tommy 'The Legend' Caffrey and 'Marlon' Branco!
(January 2020)
First of all, Happy New Year to all club members and visitors! Here's hoping that 2020 is a successful, fun and sporting year for Balbriggan TT Club.
Match Schedule for 2020 League Season. Check the link below–it will download an Excel file; then you can open it on your device–for dates/days of home matches (in red) for all the teams. We have tried our best to schedule only one home match per Tuesday or Thursday. As far as I can see, there is only one night where there are two matches. Thanks to all players for their understanding. Table times will need to be strictly regulated on match nights to ensure everyone gets adequate time to train and play.
Some news from over the holidays: Several players from Balbriggan played in the Loop Tournament on December 28, including Stuart Kelly–in his first competetive tournament ever; well done, Stuart!–Pravesha 'Sasha' Ragi and Matt 'The Dragon' Broadhead. Matt finished runner-up in Group B of the tournament, losing the final 3-2. Amazing result, Matt! They will be gunning for you in the next one!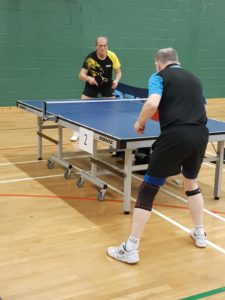 In the Leinster Open, played on the 4th of January, 'Marlon' Branco Jakotevic finished 3rd in both the 50+ and 60+ categories while Tommy Caffrey won the 70+ category and finished 2nd in the 60+. Amazing results lads! You're flying the Balbriggan flag high!
The League Season 2020 began last night, 6th of January, with a hard fought draw by our 1st team, with Marco winning all 3 of his singles and the deciding doubles, playing with his father, Nebosja. Well done lads and good luck to all the league teams this season.
(December 2019) 
Remember: The Club is Closed for the holidays on Tuesday 24/12/19, Thursday 26/12/19 and Tuesday 31/12/19. Normal play on Saturday 28/12/19.
More Shield news, and Great News at that! Balbriggan had two winners in the Individuals of their respective Shield Groups! (for the moment; Group 1 is still not decided apparently due to uplayed matches…grr…)
Vasile 'Vas' Goian finished top individual in Group 4 and in Group 7, Gerry McGuire took the honours. Amazing result, lads! Honorable mentions go to Kevin McCarthy in Group 2 who finished level on points with the 2nd place finisher but finished 3rd due to missing a match. Also, Damien Malone finished level on points with the 2nd place finisher in Group 7, but ends up 3rd due to count back/sets won. Also, Marco Gabic finished 2nd in Group 1 after a countback as well. Nice work, lads! The full Shield Bulletin is available here: http://leinsterttleague.net/wp-content/uploads/2019/12/Shield-Bulletin-2019-v1.pdf
 Congratulations to Pravesha Ragi for finishing 3rd in the Loop Grand Prix on Sunday, 8th December. There are some serious players playing in that tournament–and it is mixed, male and female, adult and youth–and to make the semis is a great achievement. Well done, Sasha!
IMPORTANT (AND FUN!): This Saturday 7/12/19–BALBRIGGAN TT CLUB CHRISTMAS AMERICAN DOUBLES TOURNAMENT & (AFTER, NOT DURING!) DRINKS & SANDWICHES IN THE CENTRAL LOUNGE–There will be no morning TT this Saturday but instead, American Doubles from 2pm followed by refreshments in the Central. Lots of fun!
SHIELD COMPETITION WRAP UP:
Balbriggan TT Club has had a really successful 2019 Shield Competition. All of our 4 teams have come away with silverware this year. Team 4 (Frank, Damien, Gerry McGuire and Des) won their Shield Group 7, sealing it with  a 9-0 win over Leixlip on Thursday. They needed to win 8-1 to be sure of 1st and went about it with a ruthless streak. Well done lads!
Team 3 (Gerry Whickham, Gel, Vas and Matt) finished runners up in group 4, after a couple of bruising away matches with Pingzone and Leixlip, both of whom they beat at home. Super job, Team 3!
Meanwhile, Team 2 (Kevin, Pat, John, Dave and Ollie Adamson) won a dramatic final match vs. Terenure 2 to finish runners up in Group 2! A 5-4 win wouldn't have been enough and would have handed Terenure 2nd place (after Leixlip withdrew from the competition) and John and Pat won a tough 3 setter in the end to get us over the line at 6-3. Amazing job, lads!
And last but not least, Team 1 (Branco, Nebosja, Marco, Tommy and Pravesha) finished as Winners of Group 1! After some controversy our lads pipped top rivals Terenure for the title, having beaten them at home and lost to them away, their only loss of the season. This was a hard fought group and to lose only one match in it is amazing. Also, serious congratulations to Marco Gabic on finishing runner-up in the Group 1 Individual title to occasional Balbriggan visitor/player–we taught him everything he knows–Paul Norgrove on a countback. Great job for your first foray in Irish table tennis, Marco!
The Grading Meeting for the League season will be held on December 9 and shortly after this, fixtures will be announced. Good luck in the League everyone!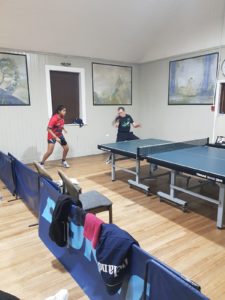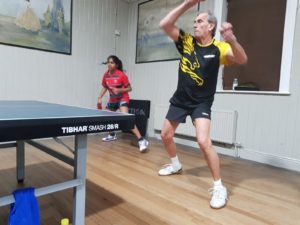 (November 2019)
REMEMBER: AMERICAN DOUBLES TOURNAMENT 7/12/19 followed by a Christmas drink in the Central Lounge, Balbriggan. Time to be decided but it will be afternoon. No TT on the morning of 7/12!
The Shield competition is wrapping up as I write so I will update next week when we know how all the team's have finished.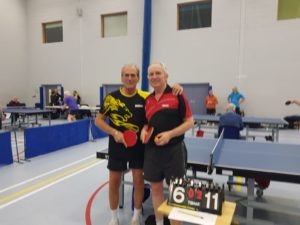 But now for some more news… Branco finished 3rd in the 60+ category of the Masters Ulster Open in Ballymena. Well done, Branco!
Meanwhile, at the other end of the spectrum, Lucas finished 2nd and Aaron 3rd in the Under 15 Plate Competition of the Robinson's Ice Cream Ulster Open Championships. Well done, lads!
Shield Competition Update: We are halfway through the Shield Competition in the Leinster League and our 4 teams are flying it so far! Team 4 (Frank, Damien, Gerry McGuire and Des) are undefeated as of yet in Shield Group 7, with the highlight of the season so far being a 9-0 over Dunboyne. Well done lads! Team 3 (Gerry Whickham, Vas, Gel and Matt) is also undefeated so far in Group 4, with a stand out 6-3 win vs a very tough Pingzone team at home last week. Keep fighting, lads! Team 2 (Kevin, Pat, John and Dave) have 1 win and 2 very close 5-4 losses in Group 2, but are still in with a shout. Curse you, 3 set doubles! And Team 1 in Group 1 (Branco, Nebosja, Marco, Pravesha, Tommy Caffrey and Susan) remain also undefeated thus far, with a great 5-4 win over rivals Terenure. Leading 4-2, Marco and Pravesha won the last doubles to take the match. Well done lads and ladies!
Don't forget, any photos from your matches are welcome and will be included here on the website. Just post them to the club WhatsApp and I will take it from there.
(October 2019)
16/10/19: Congratulations to club member, Lucas O'Reilly, who has been selected to attend the high performance Leinster Table Tennis training camp this weekend. He is really developing the skills and attitude to go far in the game. Well done, Lucas!
In other news, the Leinster League Shield Competition will begin next week, with 4 teams and 19 players (including subs) competing. Good luck to all the teams! The teams are: Team 1: Branco (C), Nebosja, Marco, Pravesha, Tommy and Mikal /Team 2: Dave (C), Kevin, Pat, Ollie and Shibbu/ Team 3: Gerry W (C), Gel, Vas and Matt/ Team 4: Frank (C), Damien, Jerry and Des
If players on each team can take some photos (or even short videos) of the matches and message me a short report, I will post them here so we have a rolling record of the matches etc.
The Shield groups can be found here: http://leinsterttleague.net/2019-shield-groups-announced/
13/10/19: Well done to all the BTTC players who played in the Loop tournament on Sunday, 13 October. This tournament featured two players, Hei Zhei Wen and Costa Cioti, who were once in the World Top 50. (Costa is a friend to the club and did some coaching with us last year and his wife, Andrea, played for our first team, winning the 2018 Shield Competition with them.) Costa and Hei Zhei Wen contested the final with Costa coming out on top. Special mention to Vasile 'Vas' Goian who, in only his second tournament in Ireland, made it through his group and into the knock out rounds where he played extremely well and was eliminated by an eventual semi-finalist. Hard training pays off, folks!
Finally, Good Luck to all the club players who will compete in this weekend's Master's Classification tournament. Those of us among the injured wish you well!
Link to a very interesting interview with the legendary Irish TT player, Colm Slevin, from the Table Tennis Ireland website: http://www.irishtabletennis.com/news/article/a_z_of_colum_slevin_irelands_greatest_ever_table_tennis_player
(September 2019)
30/09/19: Balbriggan Table Tennis Club hosted it's 3rd annual fundraiser Pub Quiz and Awards Night on Thursday, September 26th in The Central. A fine time was had by all and the achievements of club members in the 2018/19 Leinster League were celebrated. Trophies were also awarded to the winners of the BTTC Club Championships 2019.Here are some photos from the night!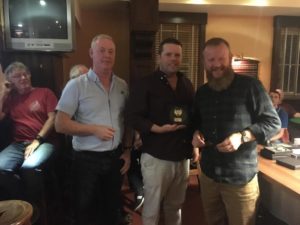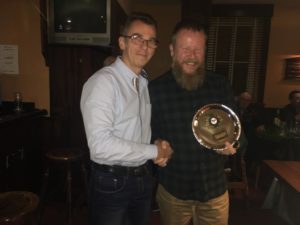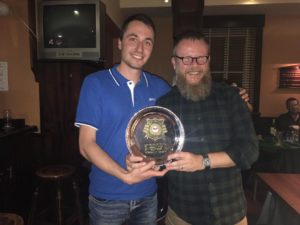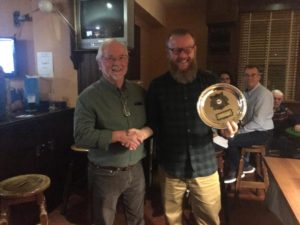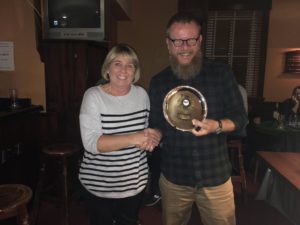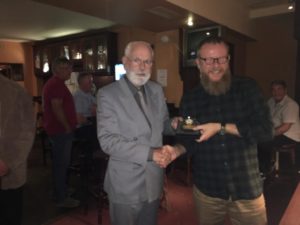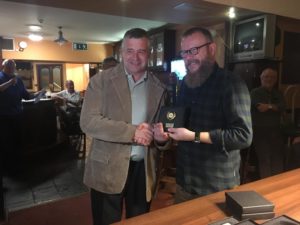 There are some more great (ie. professionally taken) photos on the Balbriggan.info website. Here's the link! https://www.balbriggan.info/balbriggan-table-tennis-club-pub-quiz-awards-night/
24/09/19: This week's Fingal Independent featured an article on the recent success of our club players, Tommy Caffrey and Oliver Adamson, in the Irish Team at the Veteran's 6 Nations Table Tennis Championships in Perth. Here is a link to the article online: https://www.independent.ie/regionals/fingalindependent/sport/other-sports/caffrey-peaks-in-singles-final-against-hill-38526195.html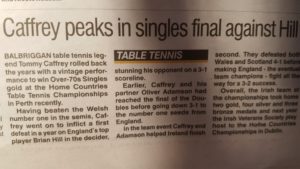 21/9/19: Another awesome performance by club member Pravesha Ragi on Saturday at the Irish National Junior Classification tournament for 2019. Pravesha won the Under 18 Junior Girls title and is now ranked as the Number 1 Junior Girl Player in Ireland! She had to beat the two best girls in the country to take the title, coming back in the final from 2 sets down (and 5-1 down in the 5th) to win it. Her hard work in training is really paying off! Well done, Pravesha!
16/09/19: An amazing result from the 6 Nations Table Tennis Championships in Perth, Scotland: Tommy Caffrey won the gold medal in the Over 75 Singles! Congratulations to Tommy!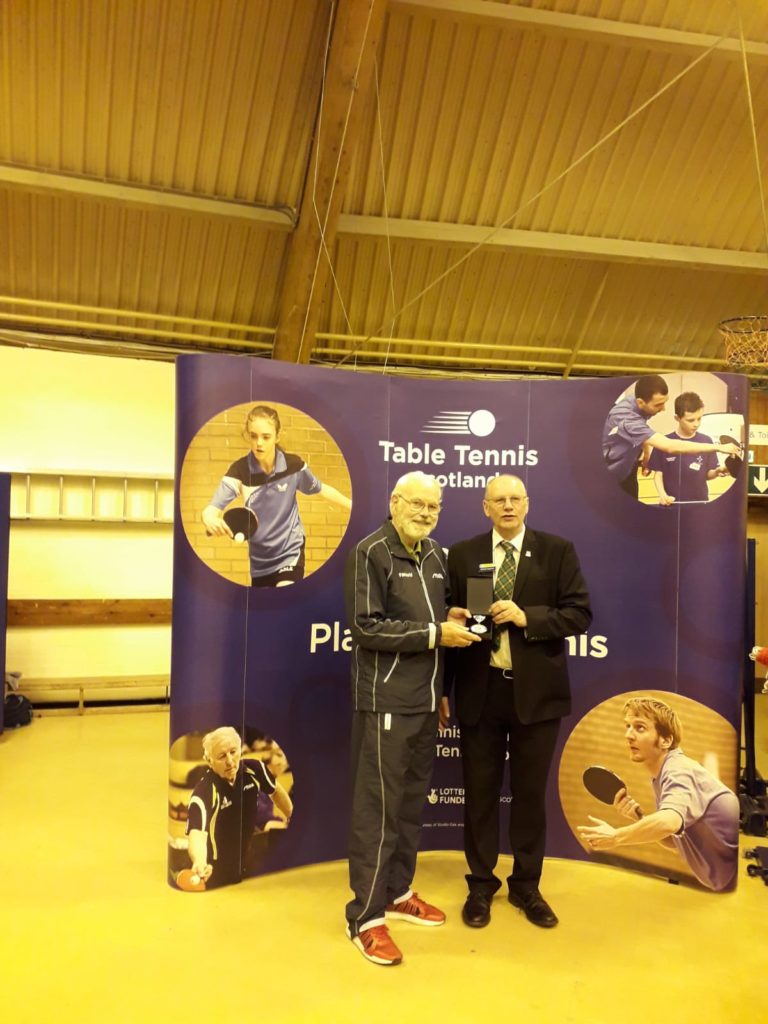 Well done to all the Balbriggan TT Club players who entered the Loop Tournament in Raheny on Sunday, 8th September. Most of us got through our groups in 1st or 2nd place and Nebosja Gabic reached the quarter finals.  There was some great table tennis played by our club members and everyone had a great day of sport. Well done folks!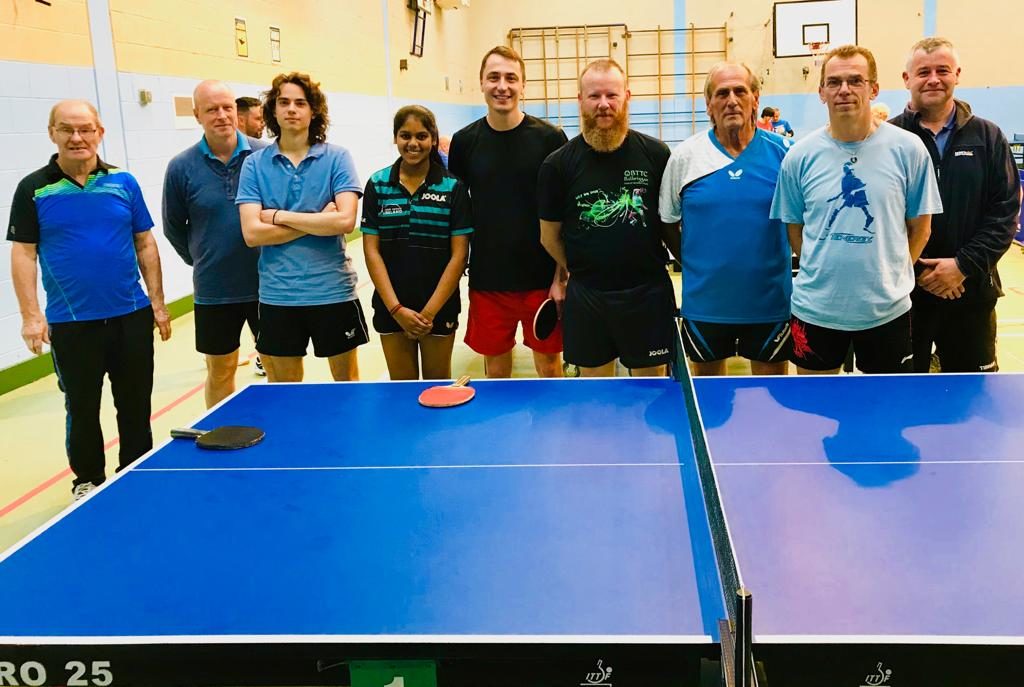 Congratulations to club member Pravesha 'Sasha' Ragi, who represented Ireland in the Women's Singles and Women's Restricted Singles at the 4 Star Bristol Seniors Open International in Bristol, UK. Pravesha made it to the semi-finals of the Level 1 Restricted Women's singles on Saturday, losing a tough match in the 5th set to go out. But undeterred, she showed up on Sunday and WON the Women's Open Singles! It's an amazing result, considering she beat the number 3 ranked Welsh U18–and number 7 ranked woman–player to take the title. She also defeated the 11th ranked English girl in the Restricted Singles. She is playing well at a very serious level due to her hard work and dedication. Well done!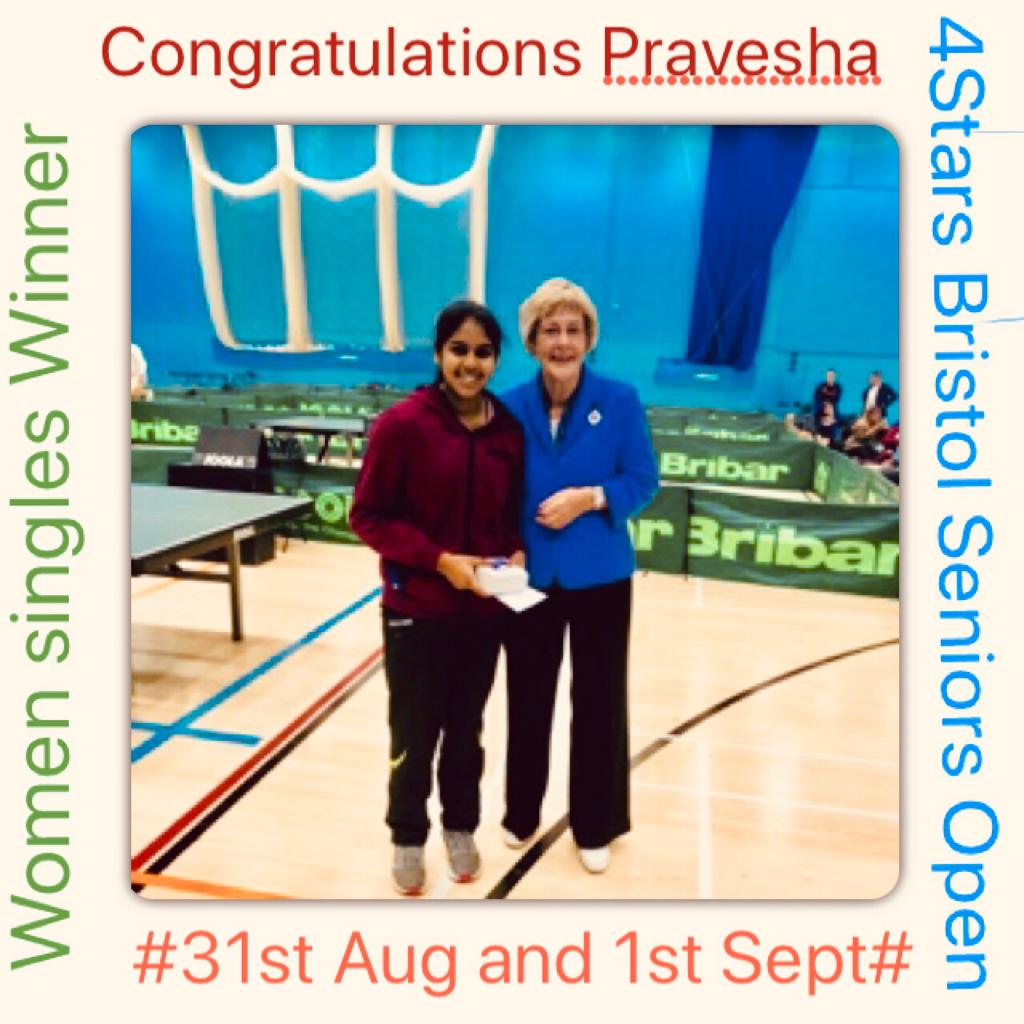 Balbriggan TT Club is proud to have 3 players representing Ireland at the 6 Nations Table Tennis Championships in Perth in Scotland next week.   (Sept 7-8)  A hearty well done and good luck to: Tommy Caffrey, Oliver Adamson,  Brian Finn and all the players from other clubs representing Ireland this week!
Congratulations to club members Tommy Caffrey, Nebojsa Gabic and Oliver Adamson for their brilliant performances in the first Veteran's tournament of the 2019/20 season. Tommy defeated Martin Pickles in a classic final match to claim the Over 70's title, fighting back from 10-7 down to win 12-10 in the 5th set! Nobojsa finished 3rd in the over 50's in his first Veteran's tournament in Ireland–losing a hard-fought semi-final to the eventual champion. Oliver Adamson also finished 3rd in the over 70's. Well done lads!
(May 2019)
End of Season Results for 2108/19
Balbriggan Table Tennis Club had four teams playing in the 2018/9 Leinster League this year in various divisions.
The 1st team–made up of Tommy Caffrey, Michal Kowal, Branco Jacetovic, Dave Cunningham and Andrea Estrada Muralles (with Kevin McCarthy subbing)–won the Div. 1 Shield competition, finished 2nd in the League and were runners up in the Cup. Tommy Caffrey, yet again, won the Div. 1 Individual title, with Michal Kowal finishing second. This is an amazing achievement for the club as Div. 1 was particularly strong this year. Well done to the lads (and lady!) for another great season.
The 2nd team–Pat Kinsella, John Keogh and Kevin McCarthy–finished 2nd in Shield group 3 and were pipped at the post in the Div. 2 to finish 3rd on number of games lost, depite having beaten both the teams who finished 1st and 2nd during the season. Well done fellas.
The 3rd team–Gerry Whickham, Gel Martin and Matt Broadhead–were the star performers for the club this year, winning the Shield and League double, while finishing runners up to their arch-rivals Balgriffin 5 in the Cup. Gerry Whickham won the Individual title and Gel Martin was runner up. Congratulations, lads. You'll be going well up the divisions next year!
The 4th team–Gerry McGuire, Frank McDonagh and Damien Malone–finished a very respectable 3rd in Div. 5. It was the first time playing competetive league table tennis in many years for Damien and Gerry and after knocking off the rust, both finished the season looking like players way too good for Div. 5. Well played fellas.
A special thanks to other club members for their support–we are known for having the most spectators of any club in the Leinster League!–and understanding on nights when table time was limited due to matches. And thanks to all the teams we played in the League for the hard-fought, fair and friendly competition.
Club Championship
The 2019 Club Championships will be played beginning the week of May 13. The groupings are in the link below and the draw will made for the matches on Saturday, 11 May.