Welcome to the online home of Balbriggan Table Tennis Club, 2018 Leinster TT League Division 1 Champions. Founded in 1938 and re-formed in 2016, Balbriggan TT Club has players of all levels, from absolute beginner to league player to Irish Veterans Six Nations representatives. With 5 tables and over 35 active players, all are welcome to come and play. We are located in St. George's National School, the Naul Road, Balbriggan.
Match Videos from Club Championships 2019
---
Club Opening Hours
| | | |
| --- | --- | --- |
| Open Play | Tuesdays | 19.30-21.30 |
| Open Play | Thursdays | 19.30 - 21.30 |
| Open Play | Saturdays | 11.00 - 13.00 |
Membership
First night of play is free! After that, it is €3 on Tuesdays and Thursdays, €5 on Saturdays for members with an annual membership fee of €30. All are encouraged to join or visitors can pay €5 to play.
The Club is open to all players Over the Age of 18 until further structures are put in place. For any questions, contact Kevin at: kevgeomcc@gmail.com
Social Media
Many thanks to our sponsors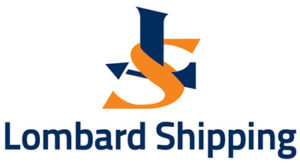 Club History
Balbriggan Table Tennis Club was originally formed in 1938. It was based in the old YMCA hall behind St George's Church. From the early 1960s to the 1980s it was one of the premier clubs in the country, being home to Irish table tennis legend Tommy Caffrey, who continues to play TT at the highest level in the club today, representing Ireland in the Veterans Six Nations competition. Featuring national standard players such as Tommy's older brother Larry, Freddie Harper, as well as current Six Nations Irish representatives Oliver Adamson and Brian Finn, Balbriggan TT Club won the Leinster League on many occasions. Kathleen Copeland (nee Murray), who also continues to play at the club, was the ladies team star in the 1970s and 80s, aided by Anne Reilly, Marie Fynes and Phyllis Stapleton. Kathleen represented Leinster on many occasions and was very unlucky not to get a full international recognition.
As the old YMCA club building deteriorated and became unfit for purpose, table tennis faded away in the town. While Tommy, Brian, Oliver and others continued to play tournaments and league for other clubs, Balbriggan TT Club itself was dormant for many years. Then, in Sept 2016 the club was re-formed, amalgamating with Hyde Park TT Club and finding a home in the beautiful sports hall in St George's School on the Naul Road.
In 2017/18, for the first time in over twenty years, Balbriggan TT Club entered two teams in the Leinster Table Tennis League. The first team, consisting of Tommy Caffrey, Kevin McCarthy, Dave Cunningham, Mical Kowal and Branislav Jakotevic, won the Division 1 League title, with Tommy winning the individual title, dropping only one game in 24. The second team, consisting of John Keogh, Matthew Broadhead, Dennis Duffey and Pat Walsh finished third in Division 4, with John Keogh taking the individual title.
Club News
(October 2019)
16/10/19: Congratulations to club member, Lucas O'Reilly, who has been selected to attend the high performance Leinster Table Tennis training camp this weekend. He is really developing the skills and attitude to go far in the game. Well done, Lucas!
In other news, the Leinster League Shield Competition will begin next week, with 4 teams and 19 players (including subs) competing. Good luck to all the teams! The teams are: Team 1: Branco (C), Nebosja, Marco, Pravesha, Tommy and Mikal /Team 2: Dave (C), Kevin, Pat, Ollie and Shibbu/ Team 3: Gerry W (C), Gel, Vas and Matt/ Team 4: Frank (C), Damien, Jerry and Des
If players on each team can take some photos (or even short videos) of the matches and message me a short report, I will post them here so we have a rolling record of the matches etc.
The Shield groups can be found here: http://leinsterttleague.net/2019-shield-groups-announced/
13/10/19: Well done to all the BTTC players who played in the Loop tournament on Sunday, 13 October. This tournament featured two players, Hei Zhei Wen and Costa Cioti, who were once in the World Top 50. (Costa is a friend to the club and did some coaching with us last year and his wife, Andrea, played for our first team, winning the 2018 Shield Competition with them.) Costa and Hei Zhei Wen contested the final with Costa coming out on top. Special mention to Vasile 'Vas' Goian who, in only his second tournament in Ireland, made it through his group and into the knock out rounds where he played extremely well and was eliminated by an eventual semi-finalist. Hard training pays off, folks!
Finally, Good Luck to all the club players who will compete in this weekend's Master's Classification tournament. Those of us among the injured wish you well!
Link to a very interesting interview with the legendary Irish TT player, Colm Slevin, from the Table Tennis Ireland website: http://www.irishtabletennis.com/news/article/a_z_of_colum_slevin_irelands_greatest_ever_table_tennis_player
(September 2019)
30/09/19: Balbriggan Table Tennis Club hosted it's 3rd annual fundraiser Pub Quiz and Awards Night on Thursday, September 26th in The Central. A fine time was had by all and the achievements of club members in the 2018/19 Leinster League were celebrated. Trophies were also awarded to the winners of the BTTC Club Championships 2019.Here are some photos from the night!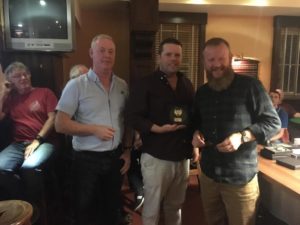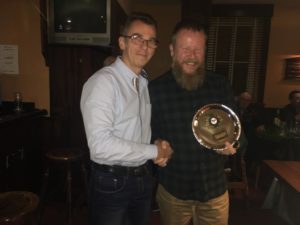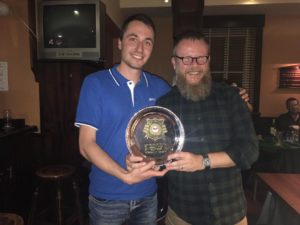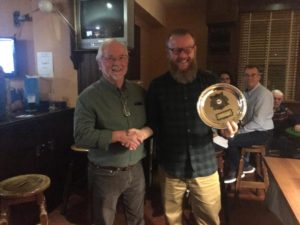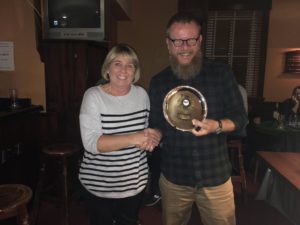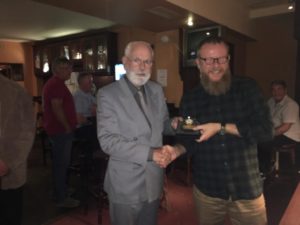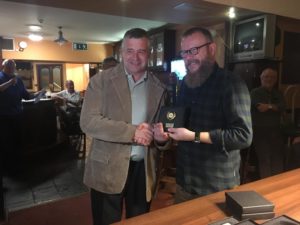 There are some more great (ie. professionally taken) photos on the Balbriggan.info website. Here's the link! https://www.balbriggan.info/balbriggan-table-tennis-club-pub-quiz-awards-night/
24/09/19: This week's Fingal Independent featured an article on the recent success of our club players, Tommy Caffrey and Oliver Adamson, in the Irish Team at the Veteran's 6 Nations Table Tennis Championships in Perth. Here is a link to the article online: https://www.independent.ie/regionals/fingalindependent/sport/other-sports/caffrey-peaks-in-singles-final-against-hill-38526195.html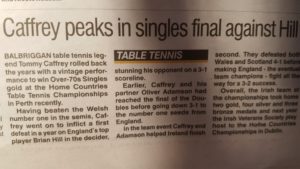 21/9/19: Another awesome performance by club member Pravesha Ragi on Saturday at the Irish National Junior Classification tournament for 2019. Pravesha won the Under 18 Junior Girls title and is now ranked as the Number 1 Junior Girl Player in Ireland! She had to beat the two best girls in the country to take the title, coming back in the final from 2 sets down (and 5-1 down in the 5th) to win it. Her hard work in training is really paying off! Well done, Pravesha!
16/09/19: An amazing result from the 6 Nations Table Tennis Championships in Perth, Scotland: Tommy Caffrey won the gold medal in the Over 75 Singles! Congratulations to Tommy!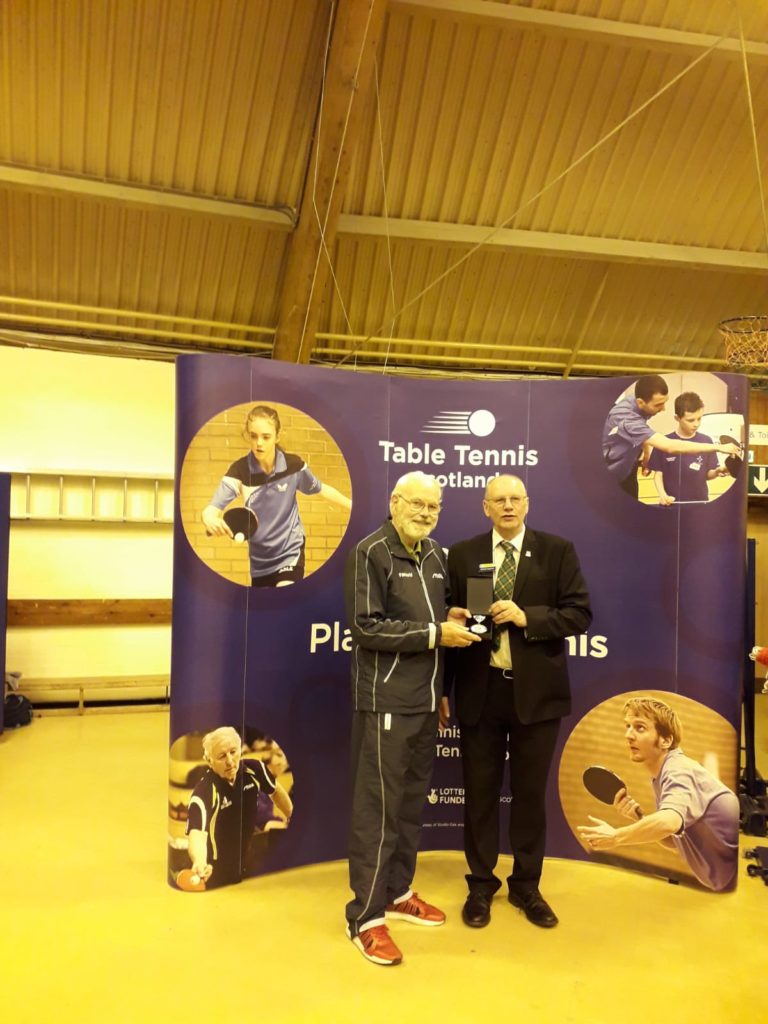 Well done to all the Balbriggan TT Club players who entered the Loop Tournament in Raheny on Sunday, 8th September. Most of us got through our groups in 1st or 2nd place and Nebosja Gabic reached the quarter finals.  There was some great table tennis played by our club members and everyone had a great day of sport. Well done folks!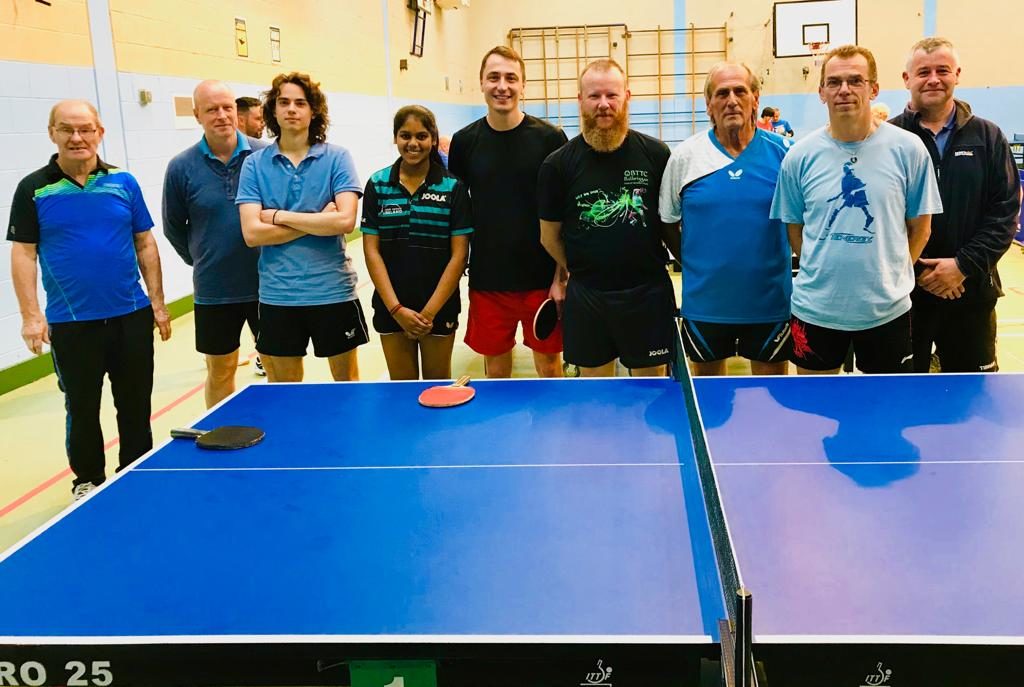 Congratulations to club member Pravesha 'Sasha' Ragi, who represented Ireland in the Women's Singles and Women's Restricted Singles at the 4 Star Bristol Seniors Open International in Bristol, UK. Pravesha made it to the semi-finals of the Level 1 Restricted Women's singles on Saturday, losing a tough match in the 5th set to go out. But undeterred, she showed up on Sunday and WON the Women's Open Singles! It's an amazing result, considering she beat the number 3 ranked Welsh U18–and number 7 ranked woman–player to take the title. She also defeated the 11th ranked English girl in the Restricted Singles. She is playing well at a very serious level due to her hard work and dedication. Well done!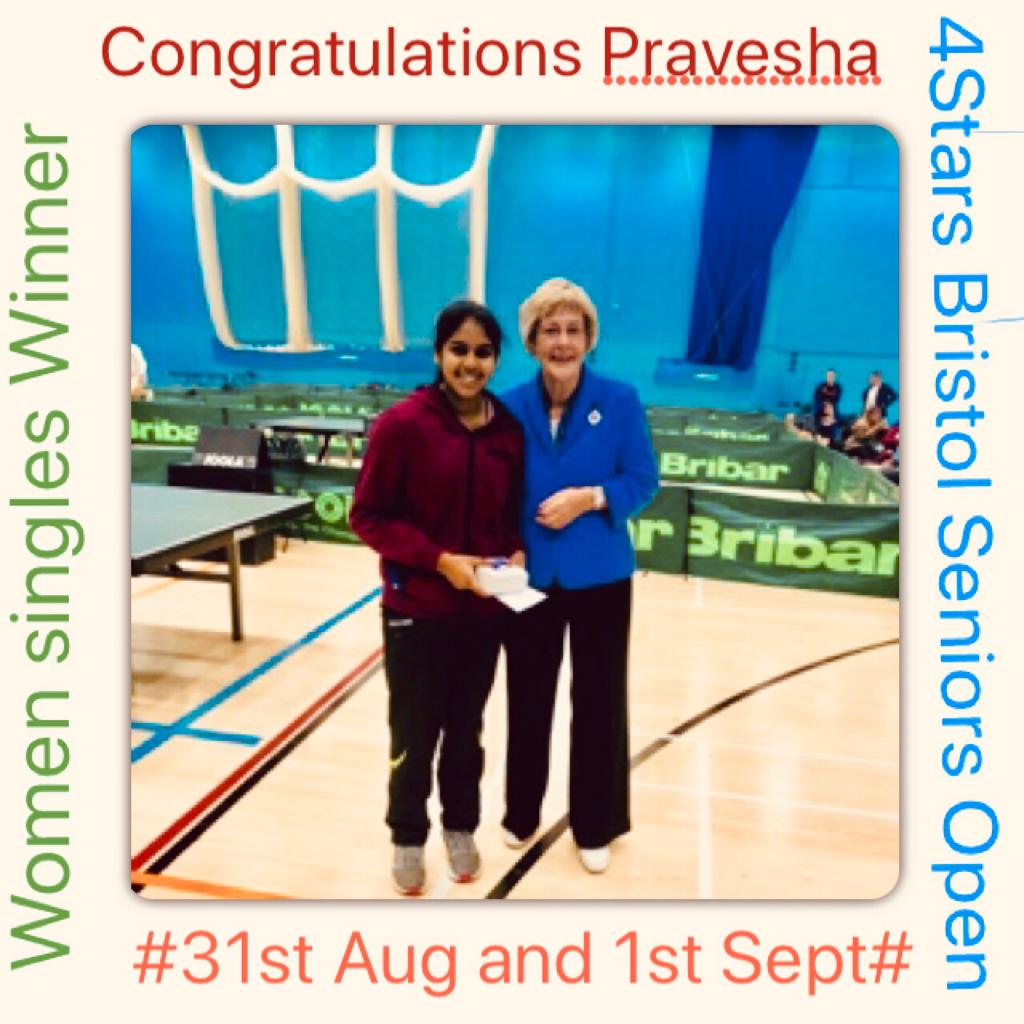 Balbriggan TT Club is proud to have 3 players representing Ireland at the 6 Nations Table Tennis Championships in Perth in Scotland next week.   (Sept 7-8)  A hearty well done and good luck to: Tommy Caffrey, Oliver Adamson,  Brian Finn and all the players from other clubs representing Ireland this week!
Congratulations to club members Tommy Caffrey, Nebojsa Gabic and Oliver Adamson for their brilliant performances in the first Veteran's tournament of the 2019/20 season. Tommy defeated Martin Pickles in a classic final match to claim the Over 70's title, fighting back from 10-7 down to win 12-10 in the 5th set! Nobojsa finished 3rd in the over 50's in his first Veteran's tournament in Ireland–losing a hard-fought semi-final to the eventual champion. Oliver Adamson also finished 3rd in the over 70's. Well done lads!
(May 2019)
End of Season Results for 2108/19
Balbriggan Table Tennis Club had four teams playing in the 2018/9 Leinster League this year in various divisions.
The 1st team–made up of Tommy Caffrey, Michal Kowal, Branco Jacetovic, Dave Cunningham and Andrea Estrada Muralles (with Kevin McCarthy subbing)–won the Div. 1 Shield competition, finished 2nd in the League and were runners up in the Cup. Tommy Caffrey, yet again, won the Div. 1 Individual title, with Michal Kowal finishing second. This is an amazing achievement for the club as Div. 1 was particularly strong this year. Well done to the lads (and lady!) for another great season.
The 2nd team–Pat Kinsella, John Keogh and Kevin McCarthy–finished 2nd in Shield group 3 and were pipped at the post in the Div. 2 to finish 3rd on number of games lost, depite having beaten both the teams who finished 1st and 2nd during the season. Well done fellas.
The 3rd team–Gerry Whickham, Gel Martin and Matt Broadhead–were the star performers for the club this year, winning the Shield and League double, while finishing runners up to their arch-rivals Balgriffin 5 in the Cup. Gerry Whickham won the Individual title and Gel Martin was runner up. Congratulations, lads. You'll be going well up the divisions next year!
The 4th team–Gerry McGuire, Frank McDonagh and Damien Malone–finished a very respectable 3rd in Div. 5. It was the first time playing competetive league table tennis in many years for Damien and Gerry and after knocking off the rust, both finished the season looking like players way too good for Div. 5. Well played fellas.
A special thanks to other club members for their support–we are known for having the most spectators of any club in the Leinster League!–and understanding on nights when table time was limited due to matches. And thanks to all the teams we played in the League for the hard-fought, fair and friendly competition.
Club Championship
The 2019 Club Championships will be played beginning the week of May 13. The groupings are in the link below and the draw will made for the matches on Saturday, 11 May.